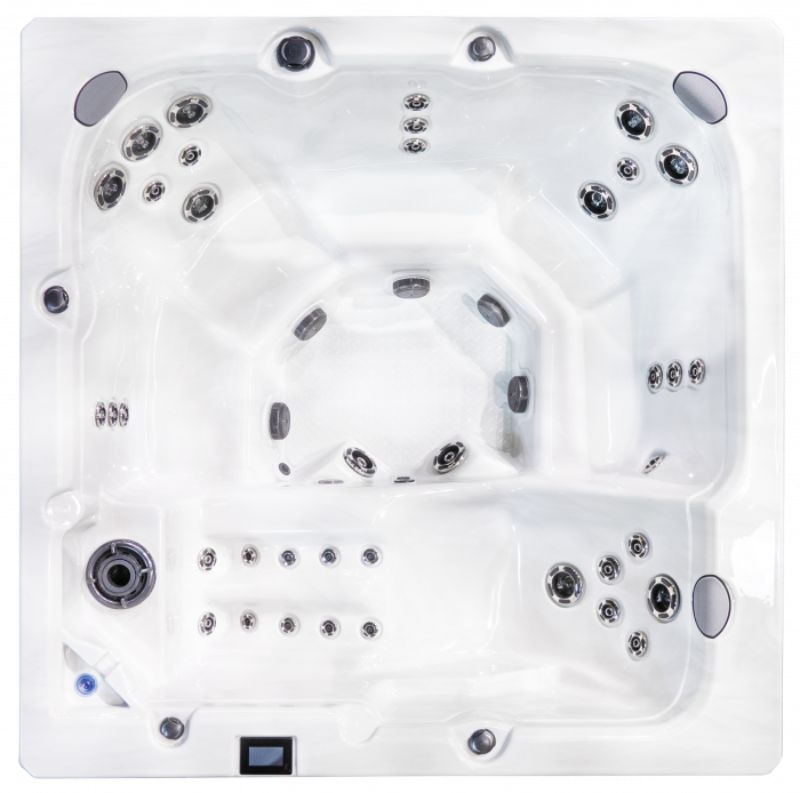 Discovery
The Discovery is one of the newest spas in our newest series and features a lounger seat. It also features a modern, sleek look, and has larger jets in a different configuration for each seat. The unique water globe feature is exclusive to the Contempo series.
Seats: 5 People
Dimensions:84 x 84 x 34 inches (213 x 213 x 86 cm)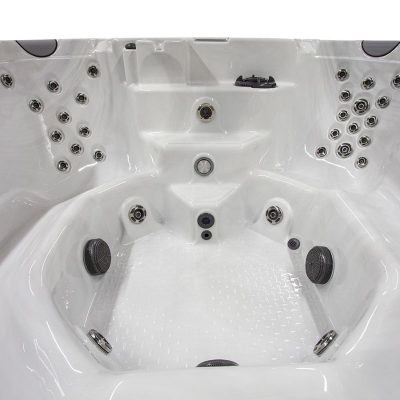 Relaxing Hydrotherapy Jets
Studies have shown that using a hot tub can benefit your health in many ways, including stress relief, muscle pain relief, improved sleep, joint pain relief, improved heart health, and more. Below are some statistics on how a hot tub can benefit your health and overall wellness.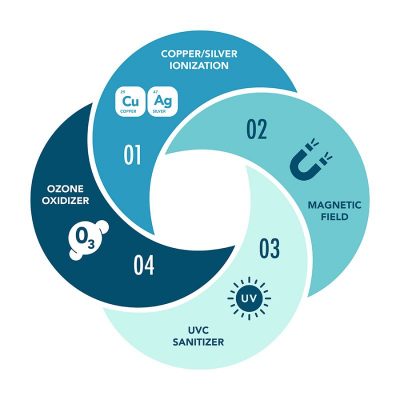 Clear (State of the art Water Management) (OPTIONAL)
CLEAR is a state of the art water management system that is a Clearwater exclusive, and combines four of the best technologies available to provide you the best fresh water experience. Natural water that just feels better.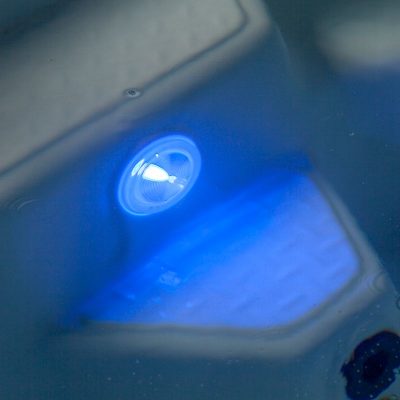 LED Lighting
Bask in the glow of our beautiful multi-colored LED mood lighting. Sit back and and enjoy programmable lighting to enhance your spa experience.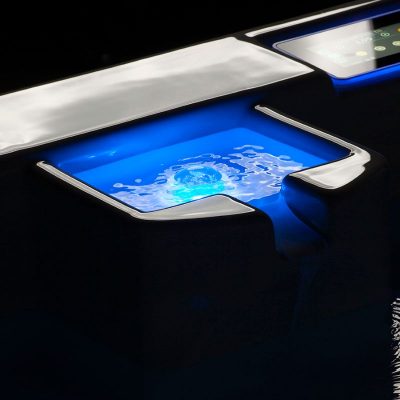 Beautiful Water Features
Beautiful water features create a magical and inviting show. Sit back, relax and enjoy the water features by Clearwater Spas. Soothing water features create a beautiful focal point, while enjoying the sound of natural flowing water or let the water cascade over your shoulders to wash away the stresses of the world.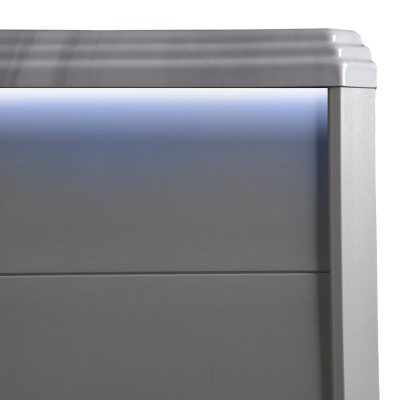 DuraTech Cabinetry
Clearwater Spas new DuraTech cabinets will provide natural wood beauty with many years of ultra-low maintenance. In addition, all of our DuraTech cabinets are backed with Reflective Thermal Shield — rigid foam panels lined with thermal foil to provide maximum energy efficiency.
Hydrotherapy: 37 hydrotherapy jets, multiple-zone air controls
Water Treatment: Ozone water purification system
Lighting: Multi-colored LED lighting in the water sphere feature and 3.5″ footwell, and a decorative light strip in the cabinet.
Water Features: Water sphere
Energy Efficiency: E-Smart & CEC Certified
Reflective Thermal Shield
Eco-Foundation: Weather-resistant, fully-insulated floor
Pillar Supports: PVC system is rot, rust, and mold-resistant
Cabinet: Insulated DuraTech
Spa Control: Digital touch screen control
BEACON |  STANDARD PRODUCT SPECS:
| | |
| --- | --- |
| Seats: | 6 people |
| Dimensions: | 84″ x 84″ x 34″ (213 x 213 x 86 cm) |
| Electrical Requirements: | 240 volt / 50-amp GFCI |
| Pumps: | 2 – 5.0 hp hydrotherapy / 1 – circulation |
| Water Capacity: | 340 gallons (1287 liters) |
| Weight Dry: | 500 lbs. (227 kg) |
| Filled Weight: | 3336 lbs. (1513 kg) |
| Designed & Made: | U.S.A., Woodinville, Washington |